Applying Seal Coat to your asphalt driveway can double the life of your driveway and potentially save you thousands of dollars in repairs. It also helps prevent water penetration into your asphalt driveway which can lead to asphalt cracking and spider cracks along the edge of your driveway.

Why is it important to SealCoat your driveway?
Seal Coating protects your asphalt paving from: natural aging, cracking, fading from sunlight, drying out from oxidation, damage due to water, gas, oil and road salt.
We seal coat driveways and commercial parking lots. Our services include Gator paver repairs to spider cracks, small asphalt repairs, and rubber beads around concrete joints. We use Sealmaster blend products for superior protection of your pavement: it preserves the asphalt and extends the life of your driveway or parking lot. Recommended to be done once every three years. New asphalt installations should be seal coated 6-12 months from the date of installation. We also do line striping, handicap parking symbols, fire lanes, lettering, and arrows.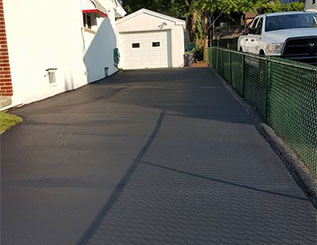 Seal Coating is the fastest and easiest way to beautify and increase the value of your property.
Give us a call today at 610-505-9824
and we can schedule your appointment to get your seal coating project started!